12 years of experience in the desiccant industry Exported to 35 countries and regions
Why do we need to use container desiccant 1000g
---
With the continuous development of the container transportation industry, the application scope of containers is becoming wider and wider, the variety of goods loaded is becoming more and more abundant, and people's requirements for containers are becoming higher and higher. Especially for precision instruments, meters, electronic control devices, and precision parts, it is necessary to consider the transportation needs of moisture-proof, heat preservation, anti-static, and shock absorption. When transporting items that need to be dry and moisture-proof, a moisture-proof cover and Container desiccant 1000g are usually installed inside the container to absorb the water droplets generated by the container during transportation, thereby protecting the goods inside the container.

There are many customers who have repeatedly complained by customers because the goods are wet, and even returned them, losing tens of thousands or even millions. What's more, the local customs required local customs to destroy the goods due to moldy goods, and the incineration fee must be paid for the loss of a large number of goods. Some lost orders because the goods were rusted and corroded. In fact, as long as we pay attention to a few points in the production and transportation process, we can easily solve the moisture resistance of shipping containers, such as by using Container desiccant 1000g.
In fact, the container goods can be kept dry by the following methods: 1. Ensure the tightness of the container; 2. Ensure the dryness of the products in the container, ensure the dryness and moisture resistance of the packaging materials, and ensure the dryness of the packing environment; 3. Use Container desiccant 1000g.
In short, to ensure the dryness of the container, especially the interior of the container, and the tightness of the product packaging, it is best to add Container desiccant 1000g to the product packaging box and container.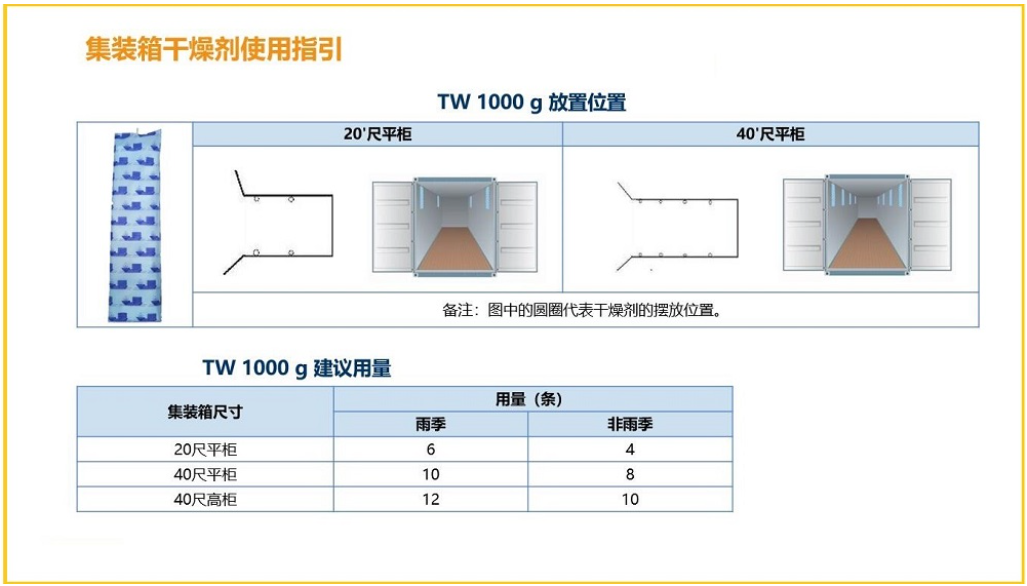 ---