12 years of experience in the desiccant industry Exported to 35 countries and regions
Why is the moisture absorption rate of calcium chloride desiccant so high?
---
Many people know that calcium chloride desiccant is the desiccant with the highest moisture absorption rate on the market. Do you know why?
Calcium chloride is a common compound of salt, calcium and chlorine. It is a typical halogen ion and is a solid at room temperature. It has several common applications (such as salt water cooling plants, ice and dust control roads, and concrete). Anhydrous salt is also widely used as a desiccant. It will absorb water and eventually dissolve in its own lattice water. It can be directly produced from limestone, but it will also produce a large number of by-products of Solvay process. Due to its hygroscopic properties, the anhydrous form must be kept in a sealed environment
In fact, the calcium chloride desiccants sold on the market are divided into ordinary calcium chloride desiccants and TaiWang calcium chloride desiccants. The price of ordinary calcium chloride desiccant is relatively cheap, but ordinary calcium chloride desiccant will become liquid water after moisture absorption, and the liquid water will evaporate into water vapor under the influence of temperature change, causing secondary damage. TaiWang's calcium chloride desiccant is made of calcium chloride and a certain proportion of gum starch that meet the requirements of FDA, EPA, EFSA and other food applications
TaiWang desiccant is a green, non-toxic and harmless high-efficiency moisture-proof product. It does not contain DMF. Moisture absorption will turn into gel like solid to prevent leakage.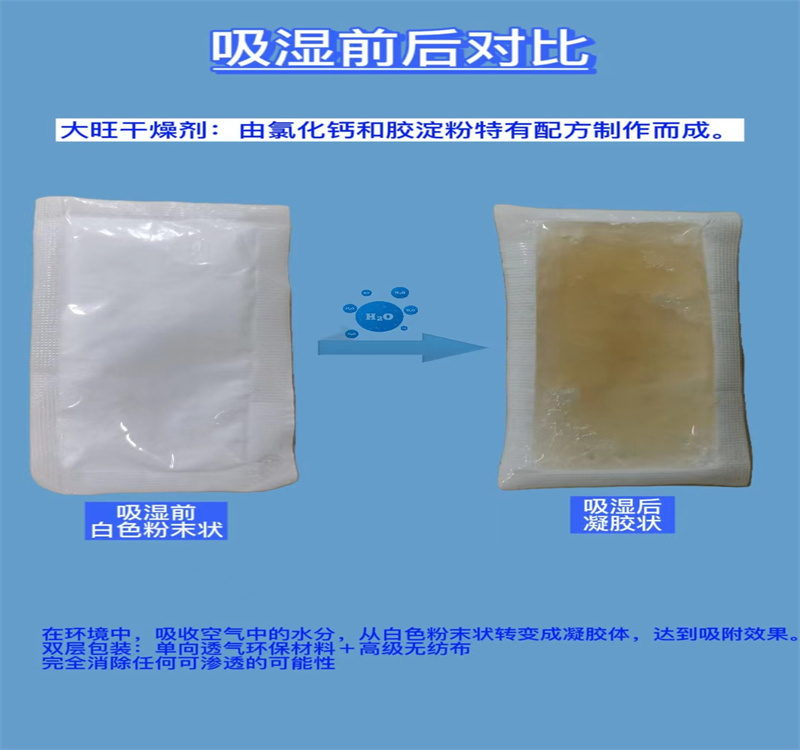 ---