What are the precautions for using calcium chloride desiccant?
---
The market at present. What should be paid attention to when using calcium chloride desiccant?
1. When using calcium chloride desiccant, the best effect can be achieved only when it is used in a sealed environment. Because the moisture absorption rate of calcium chloride desiccant is very strong, it will start to absorb the moisture in the air as soon as it comes into contact with the air, so the desiccant can not play the most effective role in an unsealed environment.
2. When using the desiccant, take as much as you use, and immediately put the desiccant that needs to be used into the packaged product package, and seal it well to ensure that the desiccant can fully absorb the water in the package and ensure the drying of the product.
3. The desiccant that has not been used must be sealed and cannot be placed at will. If it is not sealed properly, the desiccant will absorb too much water before the next use and will soon reach the saturated state, which will affect the next use.
4. When the desiccant is put into the package, be sure to leave some gaps for the desiccant. Do not squeeze the desiccant, otherwise the use of the desiccant will be affected.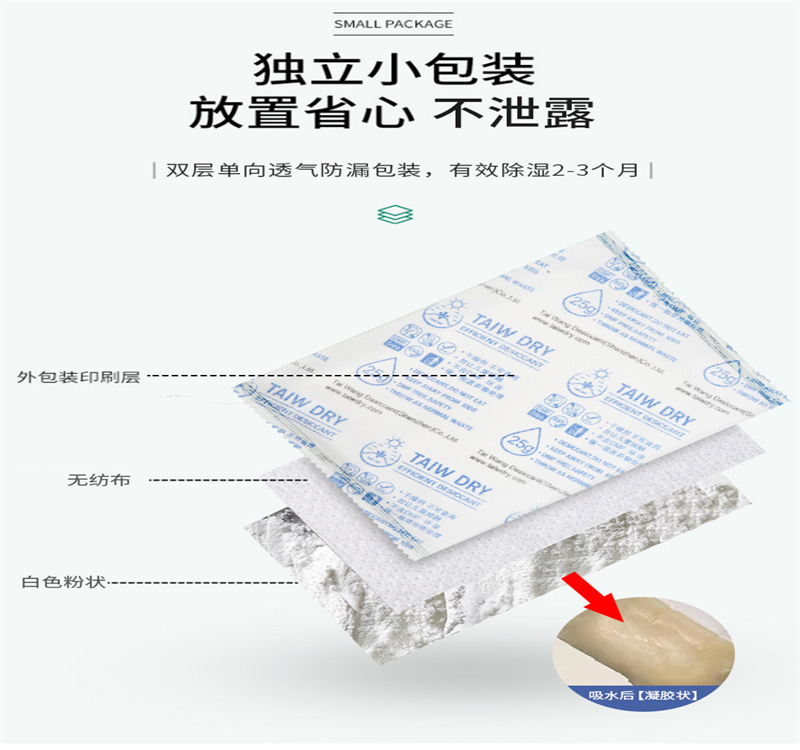 ---
TAI WANG DESICCANT (SHENZHEN) CO.,LTD.
Building A5, Yinlong Industrial Area, 292 Shenshan Road (Longgang part) Longdong Community, Baolong Subdistrict, Longgang District, Shenzhen City
WeChat
---