How should the distribution box be moistureproof
---
During the maintenance of the distribution box, it is often found that the distribution box is more or less wet. In some cases, the distribution box is relatively serious. The surrounding cables are covered with mildew, the metal fittings inside are rusted, and the phenomenon of tripping often occurs, which may cause a fire.
In fact, the rusting and mildew of the distribution box is caused by humidity, so we should take moisture-proof measures for the distribution box at ordinary times. A bag of desiccant - Electrolux desiccant can be put into the distribution box. It mainly absorbs moisture in the air and dries it. It is powder before moisture absorption and presents gel solid after absorption to prevent leakage. Electric dew desiccant is specially made for electromechanical equipment, with three-layer packaging, of which the outermost layer is flame-retardant and insulating packaging material, with the effect of moisture-proof, flame-retardant and insulation. After it is placed in the distribution box, a series of potential safety problems caused by moisture can be avoided.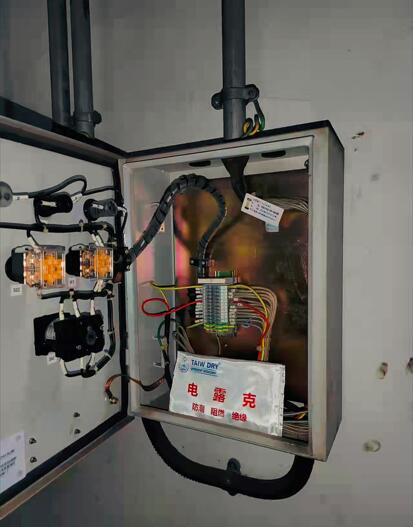 ---
TAI WANG DESICCANT (SHENZHEN) CO.,LTD.
Building A5, Yinlong Industrial Area, 292 Shenshan Road (Longgang part) Longdong Community, Baolong Subdistrict, Longgang District, Shenzhen City
WeChat
---