How to store and protect guzheng in wet weather
---
Guzheng is a very popular instrument for both ancient and modern people.
The production of guzheng is very particular in terms of materials and workmanship. Moreover, the service life of guzheng is closely related to the daily maintenance and use habits of guzheng. Therefore, as the owner of guzheng, we need to take good care of our guzheng and develop good habits during daily use.
The use of Guzheng has no special requirements for the normal temperature, mainly because the humidity environment has a great impact on guzheng. In general, the use of Guzheng in a space with a relative humidity of 50-70% is beneficial to the vibration and pronunciation of the Zheng. Humidity greater than 70% is easy to make the panel absorb moisture, resulting in dull sound, short residual drinks, dark tone and small volume. Therefore, it is particularly important to maintain and store guzheng.
The maintenance methods of Guzheng are as follows:
1. The zither panel should be kept clean. When not in use, it should be covered with a zither cover to prevent dust and water droplets from sticking to the zither board. The water droplets on the zither should be wiped with a clean dry cloth. Remember not to use a wet cloth to wipe, so as not to cause embroidery of the zither strings.
2. The guzheng is not placed against the wall or close to the place with large water vapor. It is not placed against the window and the door in the south wind;
3. The desiccant can be placed in the guzheng box cover or guzheng box;
4. Guzheng should be used frequently, which is conducive to the stability of the string tension, and can keep the resonance body in a good vibration state for a long time, which is conducive to the further coordination of the instrument structures.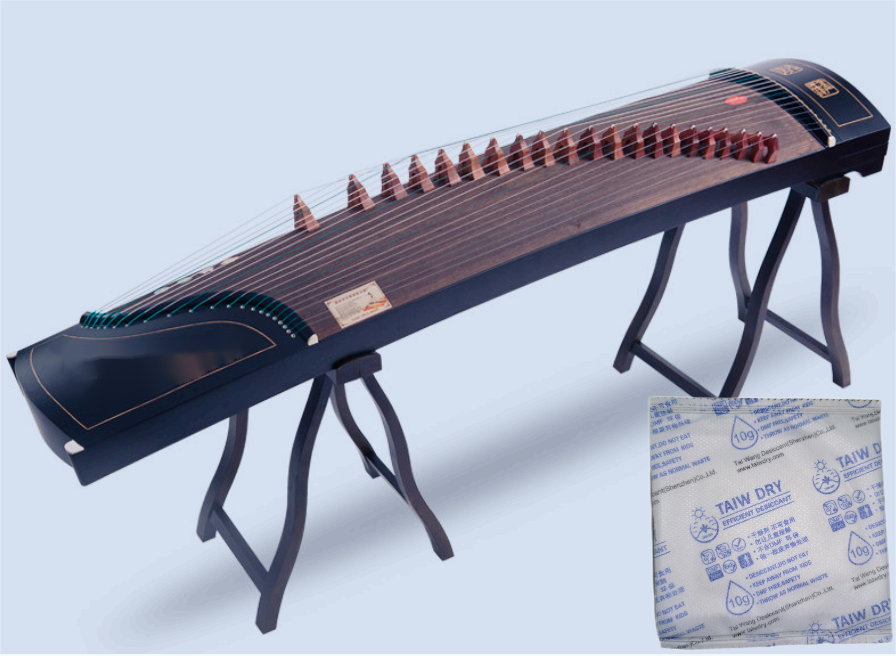 ---
TAI WANG DESICCANT (SHENZHEN) CO.,LTD.
Building A5, Yinlong Industrial Area, 292 Shenshan Road (Longgang part) Longdong Community, Baolong Subdistrict, Longgang District, Shenzhen City
WeChat
---