Do dog food need desiccant?
---
As a relatively loyal pet, dogs are increasingly sought after by modern young people, and many people keep dogs as companions.
Now there are various kinds of dog food in society to provide nutrition for dogs. However, due to the change of temperature and humidity, dog food will be affected by moisture or deteriorate. This kind of spoiled pet feed may cause nausea in dogs or damage to the kidney and liver functions of pets, causing acute kidney failure and liver function damage.
How to prevent dog food from getting damp, moldy and deteriorating?
1. It is suggested that pet owners should not stock up too much pet feed at one time. They should try to buy feed with a relatively recent production date and buy it more frequently and in small quantities.
2. High quality grain storage barrels can be selected, and good sealing performance can effectively prevent moisture and air from entering.
3. Generally, grain storage barrels have desiccant storage tanks. Desiccant can be placed in the desiccant storage tanks to absorb water in the grain storage barrels. In seasons and regions with high relative humidity, the amount of desiccant should be increased and the desiccant should be replaced at any time. It is recommended to select calcium chloride desiccant with a moisture absorption rate of 300%, and use a desiccant with a lighter weight can achieve high-efficiency moisture absorption, moisture resistance and mildew prevention.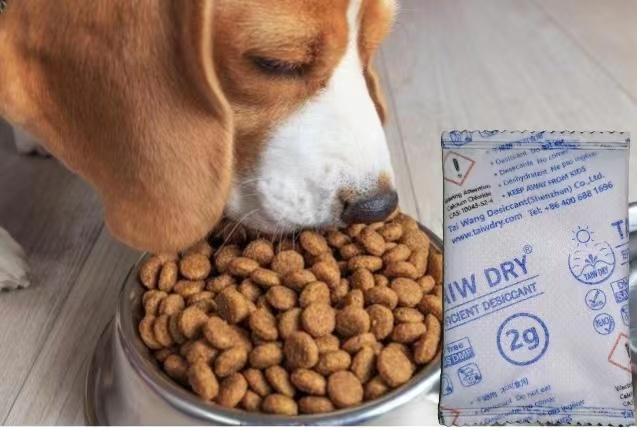 ---
TAI WANG DESICCANT (SHENZHEN) CO.,LTD.
Building A5, Yinlong Industrial Area, 292 Shenshan Road (Longgang part) Longdong Community, Baolong Subdistrict, Longgang District, Shenzhen City
WeChat
---