12 years of experience in the desiccant industry Exported to 35 countries and regions
Test report of desiccant
---
What are the common test reports of desiccant? Test reports of silica gel desiccant, mineral desiccant, calcium chloride desiccant, polymer desiccant, etc. generally include REACH, MSDS, RoHS, DMF free, etc.
What's the use of these reports? What do they mean?
The REACH report is a regulatory proposal involving the safety of chemical production, trade and use. The regulations aim to protect human health and environmental safety, maintain and improve the competitiveness of the chemical industry, develop innovative capabilities of non-toxic and harmless compounds, increase the transparency of chemical use, and pursue sustainable social development.
MSDS is a material analysis report, which is to analyze the components of the product and what components it contains. There will be a table showing the chemical content.
The RoHS test item is to detect whether there are lead (Pb), cadmium (Cd), mercury (Hg), hexavalent chromium (Cr6+), polybrominated biphenyls (PBBs) and polybrominated diphenyl ethers (PBDEs), di-n-butyl phthalate (DBP), n-butyl benzyl phthalate (BBP), hexyl phthalate (2-hexyl) (DEHP), hexabromocyclododecane (HBCDD) and other toxic substances in the components of the desiccant, and whether they meet the requirements of relevant standards.
DMF Free is the abbreviation of DMF dimethyl fumarate, which does not contain dimethyl fumarate. Previously, DMF Free was usually used as an antiseptic and mildew inhibitor, and was often used in the production, storage and transportation of leather, footwear, textiles, etc. However, it was later found that many cases of skin allergy, acute eczema and burns were caused by consumers contacting shoes and leather sofas containing dimethyl fumarate. Therefore, it is now expressly prohibited to contain this ingredient.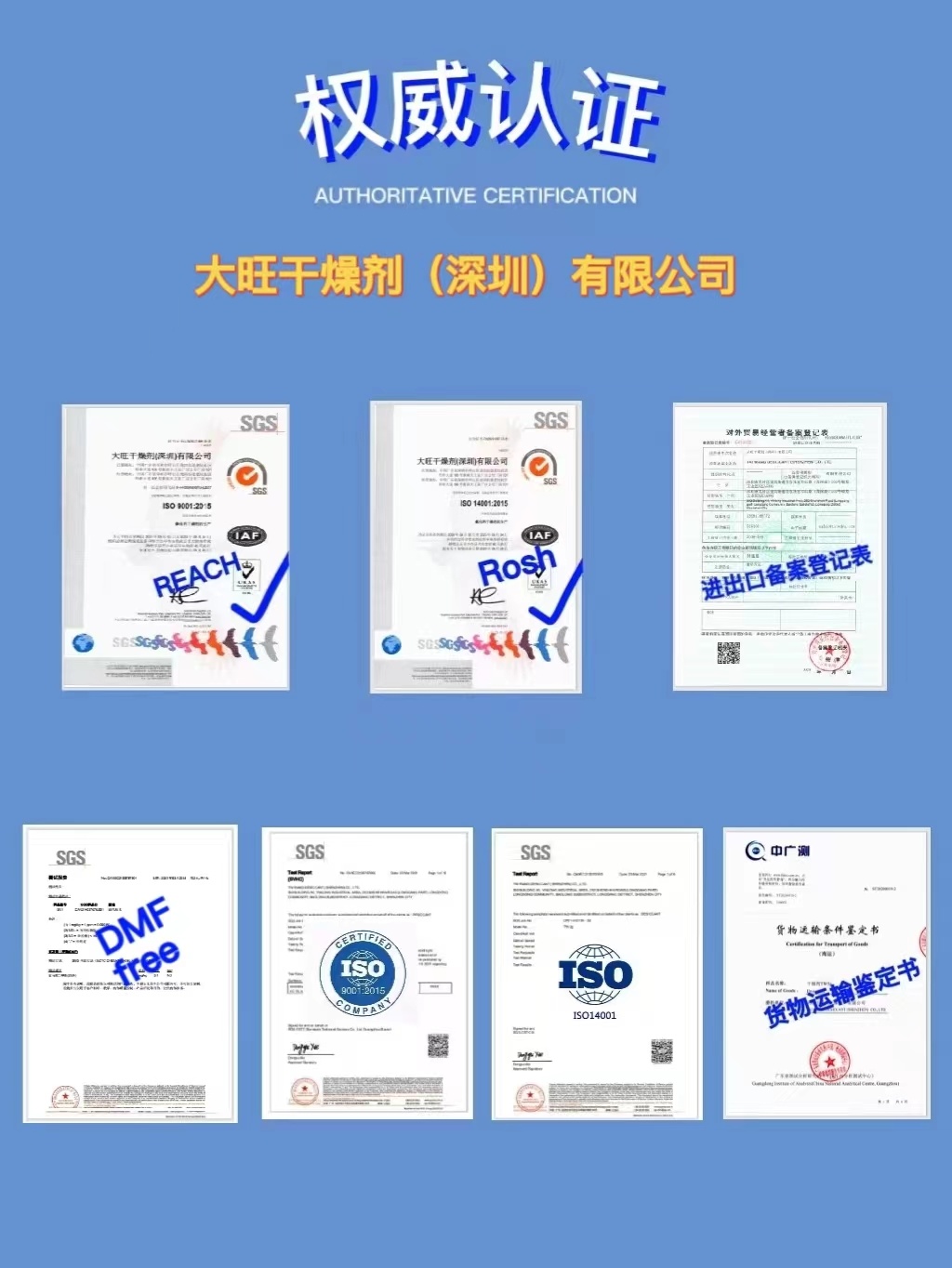 ---