12 years of experience in the desiccant industry Exported to 35 countries and regions
What characteristics should a good moisture-proof desiccant have?
---
When selecting moisture-proof desiccant, we all hope to select an excellent moisture-proof desiccant to be used in the moisture-proof and dehumidification of goods. So what kind of moisture-proof desiccant is a good moisture-proof desiccant? That is, what characteristics should it have?
Whether a moisture-proof desiccant can be called "good" should first see whether the adsorption capacity is sufficient to effectively absorb moisture and moisture. For example, Tai Wang desiccant has a hygroscopic capacity of up to 300% and a continuous hygroscopic capacity of up to 90 days. Such moisture-proof desiccant can well solve the mildew and moisture-proof problem of goods.
A good desiccant should have the characteristics of high efficiency and lasting moisture absorption. Are there any other requirements?
1. safe and non-toxic. For example, Tai Wang calcium chloride desiccant just mentioned is a green, non-toxic and harmless new high-efficiency moisture-proof product, which is mainly prepared from calcium chloride and starch.
2. comply with international standards. Tai Wang desiccant fully meets the requirements of FDA, etc. It contains no DMF and can be exported to any country.
3. anti leakage technology. All Tai Wang products are double-layer packed with composite film and non-woven fabric, and the moisture absorbing materials and packaging materials with patented technology are used to eliminate the possibility of leakage.
4. easy operation. Tai Wang desiccant is easy to use and does not need professional operation and protective equipment. It can be directly discarded as general waste after use.
In addition to the above characteristics, a good moisture-proof desiccant should also have a low evaporation rate to prevent the moisture absorbed by the moisture-proof desiccant from evaporating into the air again, causing secondary moisture pollution to the goods.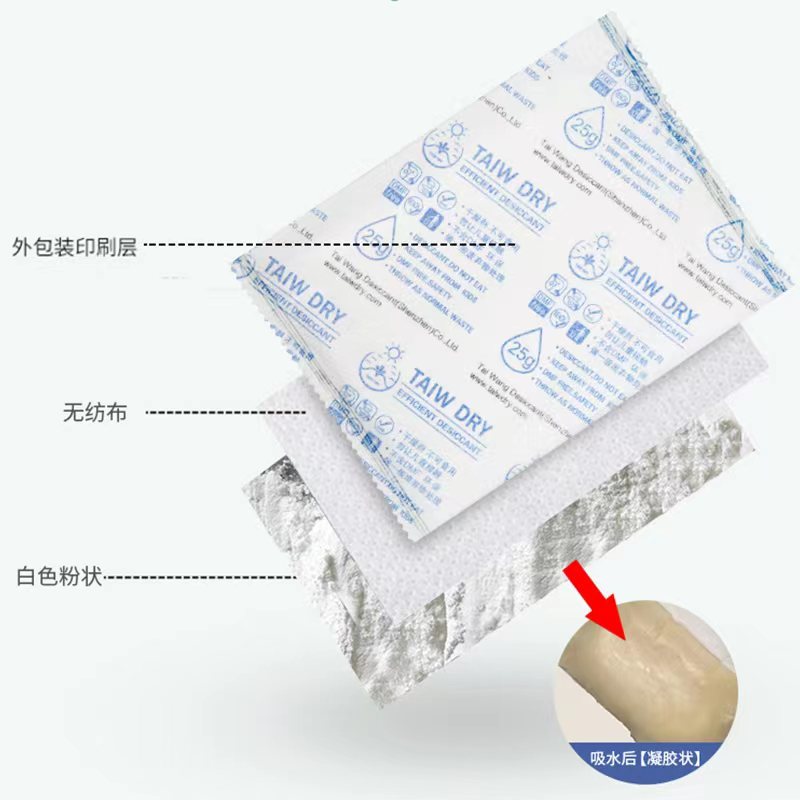 ---