12 years of experience in the desiccant industry Exported to 35 countries and regions
The Product features of the Calcium chloride desiccant 5g
---
The primary raw material of the Calcium chloride desiccant 5g is calcium chloride, which is made from the special formula of calcium chloride and gum starch. It is white powder before absorbing moisture and becomes gel after absorbing moisture.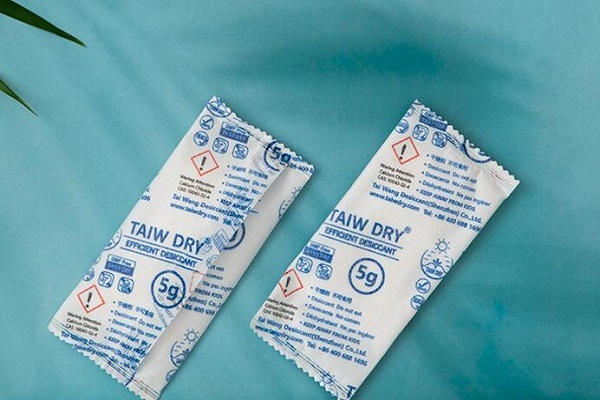 The packaging of Calcium chloride desiccant 5g is a double-layer packaging. It has double-layer packaging. The first layer of packaging is a one-way breathable environmental protection material, and the second layer of packaging material is a high-grade non-woven fabric.
An aqueous solution of Calcium chloride desiccant 5g is colorless. Mainly used as a raw material for the production of other calcium salts in inorganic chemicals; it can also be used as a gas desiccant, a dehydrating agent in the production of alcohol, ester, ether, and acrylic resins. It tasted bitter and tasteless, but it should be noted that it is not edible.
Calcium chloride desiccant 5g works very well as a desiccant for moisture absorption. The desiccant industry now has many excellent technologies that can be used on a variety of materials. Especially the calcium chloride desiccant, the moisture absorption rate can reach 300%, and the effective moisture absorption can reach 90 days. After use, it has a perfect moisture absorption effect and is stable and reliable.
The Size of Calcium chloride desiccant 5g is 11.5*5.5 CM, 1000 pcs per carton, and the Net weight is 5g per pack. Using irreversible venting water-proof materials for the inner layer material and very high grade non woven materials for the outer layer material, Double - layer packaging, high efficiency moisture absorption, no leakage.
TAI WANG desiccant Co., Ltd. was founded in Shenzhen, specializing in the production of high-quality calcium chloride desiccant, such as Calcium chloride desiccant 5g, to help customers solve problems such as moisture and mildew, and protect product safety.
Through the above introduction and analysis of the Product features of calcium chloride desiccant 5g, hope it helps you.
---